【Professional Wood Carving Tools】This 12 wood carving set is the perfect gift for carving lovers. Small, strong and sharp, it meets all the engraving requirements of all hand engraving enthusiasts.
【Sharp and Durable Blade】High quality carving knife is made of high quality carbon steel Suitable for hard wood, linoleum, clay sculpture and soapstone coatings.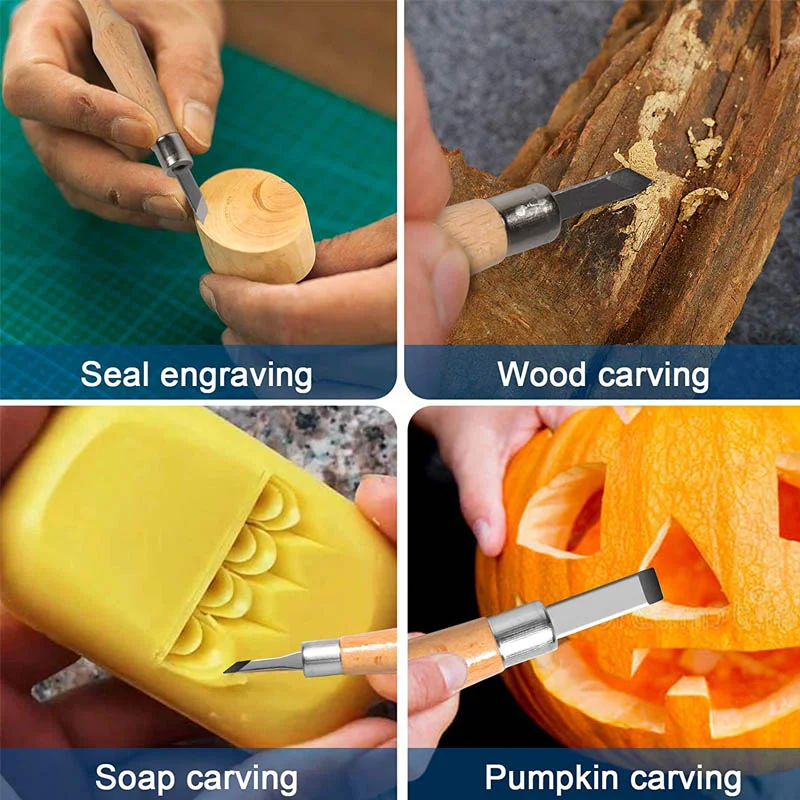 【Multifunctional Carving Set】12 pieces of wood carving knives, including deep chisel, medium chisel, shallow chisel, narrow straight chisel, wide straight chisel, round chisel, 4 bevel knives/chisels, fork and precision tools.
【Comfortable Wooden Handle】The handle of the wood carving kit is ergonomically designed, so it will not hurt your fingers even if you are carving for a long time. Each tool has a stable plastic cover to prevent any scratches and injuries.
NOTE:The blade is sharp, please use it with care, wear gloves or other protective measures
Country
(excludes processing time)
Cost
Rule
CANADA
Express Shipping
19.99
$0.00 - $69.00
15.99
Over $69.00
Standard Shipping
12.99
$0.00 - $69.00
12.99
Over $69.00
Country
(excludes processing time)
Cost
Rule
Global Shipping
Express Shipping
12.99
$0.00 - $69.00
9.99
Over $69.00
Free Shipping
Free
Over $69.00
Standard Shipping
6.99
$0.00 - $69.00
Click here For more info and international shipping