【7 in 1 WOOD CARVING TOOLS】-The carving tool kit with a wood carving hook knife, a whittling knife, a chip carving detail knife, a leather strop, a polishing compound and a pair of cut resistant gloves, which meet all your needs whether rough working or detailed carving.
【EXCELLENT QUALITY】-Our carved knife is made of Chromium Vanadium Alloy Steel, high hardness, high corrosion resistance, it can stay sharp not curling for a long time during your wooden carving process.
【EAST TO USE】-The handles with ergonomic handle made of Black Walnut wood, Can not only meet different professional Carving demands, but also release your hands from fatigue.
【PORTABLE ROLL STRAP】-The carving tool set comes with roll strap that easy put in pocket. You can use them anywhere and easy to storage and carrying them.
【EXQUISITE GIFT】-Put all the carving tools into a roll cloth bag, which is very suitable as a gift for beginners and all friends who like carving wood.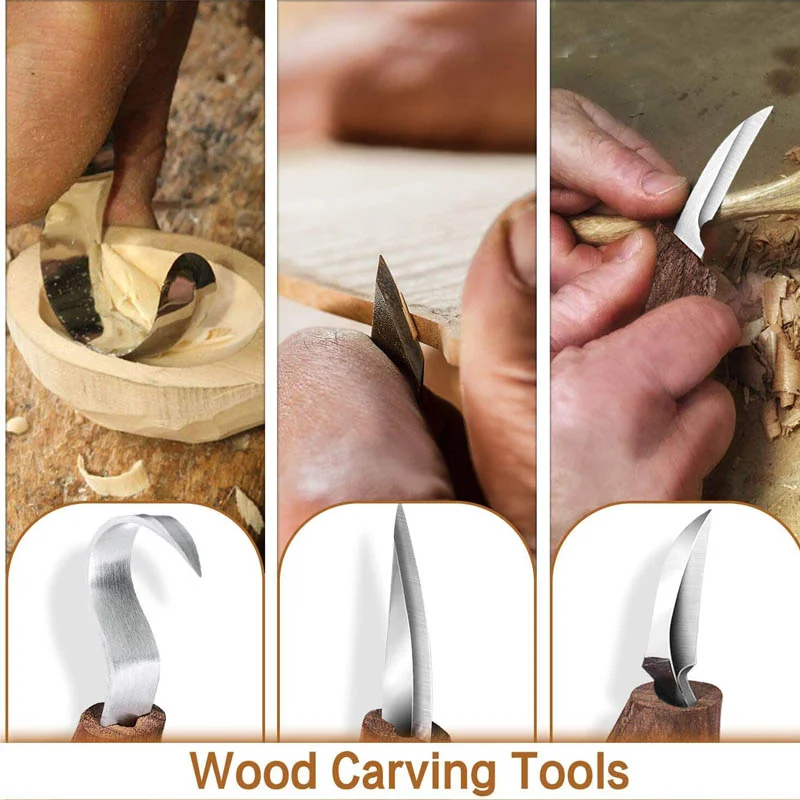 NOTE:The blade is sharp, please use it with care, wear gloves or other protective measures
Country
(excludes processing time)
Cost
Rule
CANADA
Express Shipping
15.99
$0.00 - $59.99
12.99
Over $59.99
Free Shipping
Free
Over $59.99
Standard Shipping
9.99
$0.00 - $59.99
Country
(excludes processing time)
Cost
Rule
Global Shipping
Express Shipping
12.99
$0.00 - $59.99
9.99
Over $59.99
Free Shipping
Free
Over $59.99
Standard Shipping
6.99
$0.00 - $59.99
Click here For more info and international shipping